Tea Plantation Stays in Assam
Dibrugarh - Mancotta T.E - Sivasagar - Gatoonga T.E - Adabarie T.E - Guwahati
9D/8N
The history of Assam Tea goes back almost two centuries. It was a certain Robert Bruce from Scotland, an adventurer, who first discovered it for the west in 1823. Locally, tea was being consumed by the Singpho Tribe, who provided samples to Bruce for his scientific research. However, it was only in the early 1830s that proper examination concluded that the Assam variety was different from the Chinese variety of tea. Soon after in 1939, at the time when the west had just begun their love affair with tea, Britain allowed companies to rent lands for growing tea. More than a decade later, when the first batch of Assam-grown tea reached the markets of London, consumers were deeply impressed, and thus began the tea industry of Assam. The colonial days saw tea growers who were an adventurous breed. They introduced a laid-back lifestyle in the region, which involved staying in luxurious bungalows and engaging in social and sports events which occurred in clubhouses. Though today such a lifestyle is disappearing due to the global competitive market, the tea plantations still reminisce of their colonial past. After all, the state of Assam remains the world's largest tract of land growing tea with more than eight hundred tea estates today that appear to cover the landscape in continuous greenery.

Starting in the small tea-growing riverside town of Dibrugarh somewhere in the far-eastern plains of the country, you will be staying in a charming colonial-era planter's bungalow run by the prestigious Jalan group. Surrounded by unending miles of lush tea plantations, you will be visiting a factory to learn about tea production or perhaps join tribal ladies to pluck some fresh tea leaves. Moving on to the vast fertile plains of central Assam, the journey will reach the Gatoonga Tea Estate of the renowned Barooah family which traces its lineage to the 19th-century born Siva Prasad Barooah; a legend in these lands. He was a tea planter, philanthropist, politician, and humanist, and also pioneered the way for Assamese journalism by publishing the state's first daily newspaper. Located in the interiors amidst lush surroundings and spread over a large area, your stay at the estate will be in another charming century-old colonial property that finely displays the influence of British patrician living. At the nearby Tocklai Tea Research Institute, the top scientific center dedicated to tea growing in the world, you will get an opportunity to meet students and faculty members, and thus learn more about the various issues and progressions of the tea growing community. Lastly, the tour will cross over the mighty Brahmaputra River to arrive at its north bank for a few days in the green expanses of Adabarie Tea Estate. Run by the world's largest tea-producing Williamson Magor Group, the plantation has a rich history dating back to mid 19th century. The large estate runs a few classic properties each with their own charm and decor, where time seems to pass absorbed in the beauty of the plantations with views of eastern Himalayan peaks on a clear day.

There are a lot of other activities to keep you busy, such as visits to the tea auction center, local markets, monuments, temples, and villages. Depending on the river conditions and season, you might also get a chance to go on a sunset boat ride on the Brahmaputra to visit the island of Majuli, a hotbed of ancient Assamese monastic culture, and explore a nature sanctuary. The cuisine will at times be exotic, consisting of tribal, Assamese, and Indian. There is also a chance for an informal cooking lesson with organic produces grown locally and an elephant ride which will leave you thrilled.


Day 1| Dibrugarh - Mancotta T.E
After arrival at Dibrugarh Airport, transfer to a luxurious heritage bungalow nearby located midst the serene greens of the Mancotta Tea Estate and owned by the prestigious Jalan group. The afternoon will be at leisure to get a feel of the plantations, followed by evening tea and a visit to the upbeat market area of the town. Overnight in the bungalow.

Day 2 | Mancotta T.E
Go for an early morning stroll into the tea gardens, the best time to experience the therapeutic aromas and the plantations fresh with new leaves and greenery. Later after a leisurely breakfast, you will leave for a guided tour of the tea factory to learn about the various processes involved in the production of tea and if possible have a conversation with the manager. Afternoon and evening will be at leisure to relax in the peaceful ambiance of the lush green plantations. Horse riding through the countryside and plantations may also be possible on prior notice. A visit to the planter's clubhouse can be knowledgeable and hints at the rich colonial days. To experience a spectacular sunset, a boat ride can be organized in the mighty Brahmaputra River depending on the river conditions and weather. The evening can be spent exploring the town's busy markets and dining in a nice restaurant.

Day 3 | Mancotta T.E - Sivasagar - Gatoonga T.E
After a leisurely breakfast, leave for Gatoonga Tea Estate near Jorhat (4 hours) to arrive at a boutique luxury heritage bungalow for your stay. En route at Sivasagar, you will be visiting the architecturally rich medieval ruins and temples of the Ahom Dynasty that once ruled Assam for more than 600 mighty years. The rest of the day will be free to settle down into the easygoing plantation life.

Day 4 | Gatoonga T.E
In the morning hours, you will visit the Adivasi women pluckers to observe their work and if you like you can join in the plucking of leaves. After breakfast at leisure, you'll leave for a guided visit to a nearby factory, followed by a tea tasting tour of the different grades of tea produced in the factory. You will also visit the nearby Tea Research Association at Tocklai where pioneering experiments and research is conducted to help tea growers. You will get a chance to interact with some of the scientists and professionals who are experts in their field. After lunch, you'll be visiting some nearby villages to observe the simple and sustainable lifestyle of the Indian countryside. Evening at leisure or maybe a visit to the clubhouse for dinner.

Day 5 | Gatoonga T.E - Majuli - Gatoonga T.E
For a day excursion, you will leave for Majuli (2 hours), which is the largest inhabited river island in the world and a hotbed of age-old Assamese monastic culture. En route, cross the mighty Brahmaputra River in a scenic ferry ride. Spend the day visiting monasteries on the island where you will meet monks who live a peaceful life learning philosophy and unique forms of arts, drama, music, and dance. Visit tribal villages and a mask-making center. Lunch will be in a village house where you will get to taste and can learn to cook various ethnic Missing dishes with a local family. Return to the bungalow by dusk for an overnight stay. The evening will be at leisure. Alternatively, for the wildlife inclined a day trip can be organized to the nearby Gibbon Wildlife Sanctuary known for its primates, birds, and biodiversity.

Day 6 | Gatoonga T.E - Adabarie T.E
After breakfast, leave for Adabarie Tea Estate near Balipara (4-5 hours) for your stay in a boutique luxurious planter's bungalow owned by the Williamson Magor Group, the biggest tea company in the world. The journey will thus cross to the Himalayan drained north-bank of the Brahmaputra. Afternoon and evening will be at leisure to get acquainted with the plantation life in and around the bungalow. As the properties here have their own little organic farms, you may want to pluck some of the produce and learn to cook them in a local way in an informal cooking lesson.

Day 7 | Adabarie T.E
After breakfast, leave for a tea tasting tour and a factory visit guided by an expert. Meeting with the manager will be insightful in learning more about Assam tea. Later in the afternoon, you will get to experience a unique tea-time elephant ride, giving you a chance to interact with an elephant and its mahout, and stroll around the plantations and nearby villages. Alternatively, you may also choose a leisurely cycle tour instead of an elephant ride. Evening at leisure.

Day 8 | Adabarie T.E - Guwahati
After breakfast, leave for Guwahati City (6-7 hours). En route, you will visit some of the off-beaten ancient Hindu temples that exist in and around the town of Tezpur. The evening will be at leisure. You may choose to go on a last day shopping in the local markets and craft centers. Your stay will be at Guwahati Address, a boutique hotel located primely.

Day 9 | Guwahati
After breakfast, you'll leave for a visit to the Tea Auction Centre at Guwahati, if it is open. It is the world's second-largest tea auction center and the largest for CTC tea. Learn about how the tea market functions and meet with experts in the industry. Later, go for a brief visit to the museum and the Guwahati Kalakshetra which is a brilliant government initiative dedicated to showcasing various tribal arts and crafts of Northeast India. Leave for the airport for an afternoon/evening departure flight. Tour ends.

Surrounded midst lush sprawling tea gardens on the outskirts of Dibrugarh, Mancotta Bungalow is a boutique property with the classic old warm charm found in the luxury and comfort the early British tea growers lived in and their lifestyle in the estates. The stilt-raised bungalow displays fine colonial architecture. A peculiar feature is all nails used in building are made out of wood believed to have been handcrafted by traditional Chinese artisans. Rooms are large and luxurious with modern amenities. The open lawns and sit-outs are ideal for long conversations over a fine cup of tea or indulge in a book.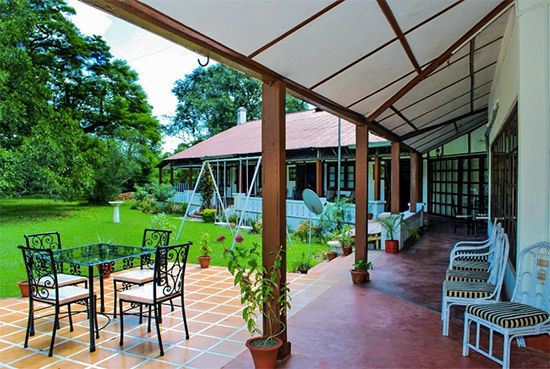 Built more than 100 years ago, Banyan Grove is a boutique bungalow which allows travelers to live the colonial life of early British tea growers and have a peek into their fine adventurous escapades. The property has spacious rooms with fire places, a classic hall-room, sit-outs and finely kept lawns, all surrounded by the pleasant greenery of the Gattonga tea estate in fertile middle Assam.
Located in the fertile eastern Himalayan lowlands and managed by the world-leading Williamson Magor Group, Adabarie Tea Estate is lush and green all year around. Few bungalows in the estate have been refurbished to accommodate travelers who are interested to learn about the life of colonial tea growers. From cooking classes, to tea time hikes, the property is a classic example of fine and meaningful living. Rooms and bungalows are luxurious, spread out and have ample scenery.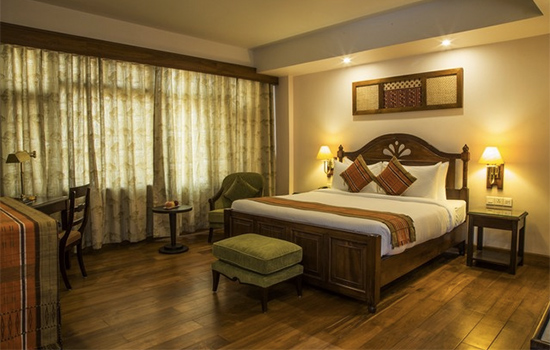 The Guwahati Address is a new upscale hotel bringing concept based architecture and hospitality. The hotel is subtle and elegantly done. Rooms are well furbished with wooden flooring and good modern amenities. There is an ambient atmosphere, especially in the restaurant. The lobby is large and can be used to find conversations.
Why travel with us?
curated experiences
Our itineraries are one of a kind, curated from our own personal travel experiences, from choosing the best logistically correct routes to the most interesting stay options.
native guides
Our tour guides are native to the region, and bring you an insider view into the life and culture of Northeast India, sharing with you authentic local experiences and fostering friendships.
experts in tours
When travelling with Greener Pastures, you can be assured that you are in the hands of experts who are knowledgeable and passionate about the region. Expect hassle-free, easy-going, and insightful travel.
By choosing us, we share together a pledge towards responsible tourism, and share a belief that travel has the power to positively transform local livelihoods, cultures and environment.
The tours listed in this website are our own well-researched itineraries that come with a great degree of flexibility and customization. Each tour is therefore individually costed around your requirements and budget. This provides you with a sense of choice and reliability, and also helps us meet customer expectations much more closely, making your travel experience all the more memorable.

Please fill out the form below to tell us more about the tour you are interested in and a response with costs and information will be sent to you as soon as possible.
Booking Procedure
Our tours can be confirmed with an advance deposit of 30% which can be transferred to our bank account.

Please go through the Terms and Services listed in our website.

Cancellation Policy
Greener Pastures must receive notification of cancellation in writing, email or phone call. At the time we receive the request, refund will be based as follows:

1. Cancellation more than 15 days prior to departure = 75% refund of deposited advance amount.

2. Cancellation less than 15 days prior to departure = 25% refund of deposited advance amount.