Adventure and Hiking in the Khasi Hills
Cherrapunji - Nongriat - Shnongpdeng - Shillong - Mawphlang
8D/7N

Available from October to April

A weeklong adventure designed that takes the offbeat travel enthusiasts to the Khasi Hills of Meghalaya; to a myriad of natural wonders. These hills are not only renowned for being the wettest region on planet but is also well known for its serene landscape and pristine nature. Enjoy moderate treks though the hills, valleys and crossing beautiful rivers that remain abundant with lush green forests, waterfalls, living root brides and remote villages. One of the highlights of this trip will be your visit to the living root bridges that are found across the hills and are known for their sustainable architecture. Made from the roots of the Ficus Elastica tree, the Khasis of Meghalaya long ago saw this tree's powerful roots as an opportunity to easily cross the area's numerous steams. They started connecting the areal roots of these trees with the help of bamboos and these grew into strong natural bridges over decades. Its like, whenever and wherever the need arises, the Khasis simply grow their bridges.

The root bridges, some of which are over a hundred feet long, take ten to fifteen years to become fully functional and are almost centuries old are extraordinarily strong – strong enough that some of them can support the weight of fifty or more people at a time. Because the trees are alive and still growing, the bridges actually gain strength over time. Some of the ancient root bridges used daily by the people of the remote villages around Cherrapunji may be well over five hundred years old. In this trip you will get a chance to trek to these bridges and meet the local tribesmen who have built these incredible structures. Adding to the charm is Cherrapunji, which is credited as being the rainiest place on earth. Enjoy the scenic beauty of Cherrapunjee which boasts of numerous waterfalls and spectacular caves.

You also get to visit Mawlynnong situated in scenic foothills overlooking the plains of Bangladesh, that is regarded as the cleanest village of Asia. Here, living with the local community you will be part of their inspiring story in making their village a clean paradise. Interact with the friendly villagers and leisurely explore the Mawlynnong through its narrow lanes, cozy houses and secret waterfalls. Another highlight of the tour will be camping beside the breathtaking banks of that strikingly turquoise Umgnot River and indulging in adventure activities such as scuba diving, hiking, boating, zip-lining and climbing. Finally, a hike through the old British era David Scott Trail in the hills of Mawphlang is worth remembering for its pristine nature.

Surely a way out from all that hectic and artificial that bothers us so much, this delightful weeklong adventure in the hills and plateaus of Meghalaya remains a silent call of charming climate, culture and nature. Escape to pristine places off the beaten track and discover a world that seem as fantasy pages of a Tolkien novel.

Day 1 | Guwahati - Cherrapunji
After arriving at Guwahati airport, proceed to Cherrapunji (5 hours), renowned as one of the wettest places in the world. Cherrapunji is located in the Khasi hills of Meghalaya and is well known for its serene landscape. It was historically known as Sohra, the land of oranges in native Khasi dialect and was once the capital of the region during the British era. Your stay will be in a hillside lodge with small cottages offering standard amenities.

Day 2 | Cherrapunji - Nongriat
after midday, drive to Tyrna village, the last motorable point. Then, go on a long guided downhill trek (approx 3 hours) to Nongriat village where the most brilliant of all the living bridges is found. The living root bridges are constructed by the native tribespeople using natural resources available in their surroundings. They guide the roots of large trees with the help of bamboos and intertwine them over the years to form into strong bridges. The hike passes through numerous streams, hanging bridges, remote villages, lush green forests and cascading waterfalls. Afternoon can be spent relaxing amidst the greenery of the forest or refresh by swimming in the awesome clear natural pools. Your stay will be in a basic rest house run by the local village community.

Day 3 | Nongriat
Spend the day interacting with the locals of the village, observing their simple and sustainable lifestyle, swim the many ocean-blue natural waters or go on short hikes to nearby secret waterfall, root-bridges and caves. Evening at leisure.

Day 4 | Nongriat - Mawlynnong
Hike back to Cherrapunji and drive through the spectacular landscape of Pynursla to Mawlynnong (2-3 hours), considered to be Asia's cleanest village. Mawlynnong is a little hamlet which became famous as the 'Clean Village' due to the collective efforts of its local community. The villagers have beautifully maintained their village, which attracts numerous visitors and is also known as the 'Garden of God'. Later, leisurely explore the village and interact with the Khasi villagers, one can also experience their Khasi cuisine in the little food stalls. Also, if interested visit the 'balancing rock' of Mawlynnong and the root bridge at Riwai village nearby. Enjoy the panoramic view of the Bangladesh plains below from the Skywalk viewpoint. Evening at leisure. Your stay will be in a family run guest house with basic amenities.

Day 5 | Mawlynnong - Shnongpdeng
Travel to the beautiful picnic spot of Dawki (1 hour) near the border. Drive past some beautiful waterfalls on the way. Enjoy a ride in country boats in the clear turquoise waters of the Umgnot River which is surrounded by steep gorges. Short hikes are also possible along the river. Nearby in Shnongpdeng village, feel your adrenaline rush as you experience nature and adventures such as scuba diving, rappelling, rock climbing, cliff jumping and zip-lining. Camp by the riverside and spend the night by a campfire under a starlit sky. Overnight in tents.

Day 6 | Shnongpdeng - Shillong
After breakfast, drive to Shillong (3-4 hours), the charming capital of Meghalaya. It is a historic hill station established during the British era and is also referred to as 'Scotland of the east'. On the way, visit Shillong Peak, the highest point on the Khasi hills which offers a panoramic view of the hills. Also visit the majestic Elephant Falls nearby where the cascade formations resemble like large elephants. Later in the day, explore the charming town. Visit places such as Lady Hydari Park, Ward's Lake and old churches. Evening can be spent leisurely exploring the upbeat markets where one can also buy handicrafts and souvenirs from the handloom emporiums. Your stay will be in a boutique colonial style bungalow or at a luxurious heritage property.

Day 7 | Shillong - Mawphlang - Shillong
Go on a day trip to Mawphlang (1 hour) where you will be hiking the David Scott Trail. It is a heritage trail named after David Scott, one of the earliest British explorers of the region who tried to find a route from Bangladesh to Assam through the Khasi hills. The 14km long hike is suitable for travelers of all age groups and the trail skirts through some lovely nature, waterfalls, rivers and hills. One can also explore the sacred forest which is protected by the villagers and has many myths associated with Khasi culture. The age old forest also has many historic monoliths which mark important events in local history. On Sundays, visitors can see Siat Khnam archery in the Khasi Heritage Village, a traditional form of gambling which is enjoyed by the locals in the afternoon. Return to Shillong by evening.

Day 8 | Shillong - Guwahati
After breakfast, transfer to Guwahati Airport (3-4 hours) for departure as per your schedule. Tour ends.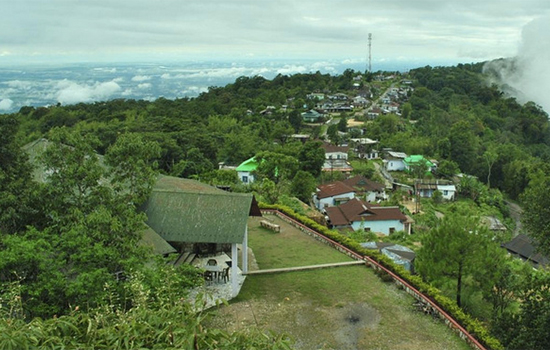 Blissfully located in the high plateaus of Cherrapunji with grand vistas of the Bangladesh plains and run by an enthusiastic hospitable family, Cherrapunjee Holiday Resort is a nature based guesthouse more than a resort where visitors can stay in fairly modern rooms and comfort.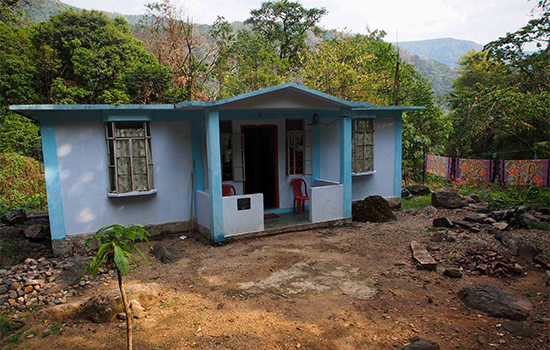 The community run village guesthouse is where visitors can stay in Nongriat. Situated close to a giant living root bridge, it has very simple basic rooms which are clean. Food is cooked homely by a village lady or can be had at charming Byron's diner located next door.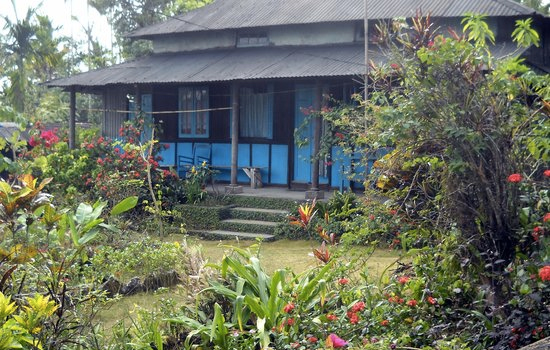 Homestays are part of the responsible tourism process practiced in Mawlynnong, Asia's prettiest village. For visitors, it means close interactions with host Khasi families and lifelong bonds with new friends. Rooms are cozy, fairly standard, providing basic comforts suitable for the village life.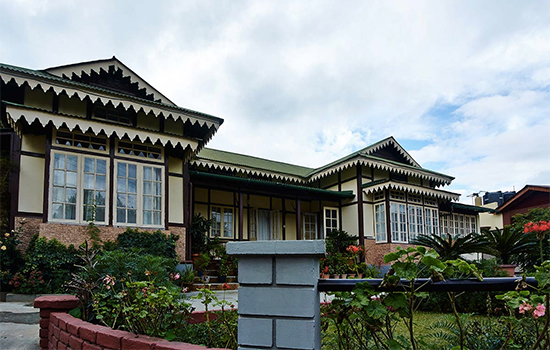 Cafe Shillong Bed & Breakfast is a standard boutique property housed in a typical old British India bungalow, offering a charming stay to visitors who come to the 'Scotland of the east'. Belonging once to the Kharpuri family, the place has colorful character and rooms and facilities are updated to the comforts of modern hospitality. There's a front-yard garden, a quiet spot for a morning tea or an evening drink.
Why travel with us?
curated experiences
Our itineraries are one of a kind, carefully deatiled from our own personal travel expereinces, such as choosing the best logistically correct routes to the most interesting stay options.
native guides
With our charming tour guide native to the region, you will get an insider view of life and culture of the region thus bringing forth authentic local expereinces and friendships.
experts in tours
Traveling with Greener Pastures, be assured you are in the best hands of experts who know and are passionate about the region. Expect a hassle-free, easy going and insightful travel.
By choosing us, we share together a pledge towards responsible tourism, and share a belief that travel has the power to positively transform local livelihoods, cultures and environment.
The tours listed in this website are our own well-researched itineraries that come with a great degree of flexibility and customization. Each tour is therefore individually costed around your requirements and budget. This provides you with a sense of choice and reliability, and also helps us meet customer expectations much more closely, making your travel experience all the more memorable.

Please fill out the form below to tell us more about the tour you are interested in and a response with costs and information will be sent to you as soon as possible.
Booking Procedure
Our tours can be confirmed with an advance deposit of 30% which can be transferred to our bank account.

Please go through the Terms and Services listed in our website.

Cancellation Policy
Greener Pastures must receive notification of cancellation in writing, email or phone call. At the time we receive the request, refund will be based as follows:

1. Cancellation more than 15 days prior to departure = 75% refund of deposited advance amount.

2. Cancellation less than 15 days prior to departure = 25% refund of deposited advance amount.