Discover Western Arunachal Pradesh

Proverbial Tawang
Nameri NP - Dirang - Tawang - Bomdila
9D/8N
"The austere serenity of Shangri-La..." describes James Hilton in his 1933 novel, Lost Horizon, "allured by a land of milk and honey in a hidden valley in the Himalayas." Over the years, this has led explorers to venture deep into the Himalayas, scouting one valley after another, and founding their own perceptions of a paradise on earth. For some, this search brings them to Arunachal Pradesh.





Arunachal Pradesh, due to its easternmost location on the map of India, is called "the land of dawn-lit mountains". The entire terra firma falls under the eastern Himalayan landscape, a land of supreme natural beauty and rich in ancient traditions. The altitudinal and climatic variation of the state results in a variety of landscapes and forests which harbors one of the planet's last great biodiversity.



In this exploratory journey to the wildest frontier of India, you will visit the proverbial Tawang region of Arunachal Pradesh to the state's western boundary with Bhutan. In this journey starting in the plains of Assam, you will begin at Nameri National Park for a brief introduction to the biodiversity of the region. You will then drive as far as the holy lands of Tawang and beyond to the paradisiacal landscapes of the mysterious eastern Himalayas.

At Dirang, you will experience the slow life of an Arunachali mountain town, visit nearby villages, and orchards, and take leisurely strolls in the scenic landscape, all the while acclimatizing for the journey ahead. Moving further high in the mountains towards the frontier borderlands with Tibet, the tour will take you to the holy town of Tawang where the Galden Namgey Lhatse Monastery sits atop the hill and appears radiant, like a beckon of higher consciousnesses. The town is both a cultural and commercial hub in this remote region. Numerous important monasteries and nunneries have been established in and around. Such as the 15th-century Urgelling Monastery which is the birthplace of his holiness the 6th Dalai Lama Gyalwa Tsangyang Gyatso. The Anni Gompa is the oldest nunnery in this vast area with several quarters housing many Buddhist nuns, built around five hundred years ago by a Tibetan lama. The newly opened ropeway between Tawang Monastery and Anni Gompa is an enjoyable ride. The large and artistic Khinmey monastery is the only major shrine of the Nyingmapa sect (red hat) of the Tawang region, where according to legend, the great hermit Kudun Sangey Rinpoche tamed several barking hunting dogs while meditating.

Lastly, as you travel near the borderlands beyond Tawang, the geography opens up into spectacular high-altitude peaks and pastures. While Indian travelers can go on a day trip toward Bum La pass to enjoy the scenic beauty of breathtaking lakes, foreign nationals get to spend a day traveling towards Bhutan to visit the Zemithang village to see the traditional lifestyle of people living in the secluded frontiers and visit the large Gorsam Stupa which is a sacred pilgrimage site resembling the colossal Boudhanath Stupa of Nepal. On your return journey to the plains, you will stay a night at Bomdila, a thriving multi-cultural Himalayan town.

A revealing journey through one of the planet's last thriving natural paradises, this tour provides a simple insight into distant lifestyles and cultures, all the while traversing a diversity of pretty landscapes of western Arunachal Pradesh. A quote by the great anthropologist Dr.Verrier Elwin aptly describes the people of the region "Gentle, friendly, courteous, industrious, good to animals, good to children, you see in the Monpas the influence of the compassionate Lord Buddha on the ordinary man."

Day 1 | Guwahati - Nameri NP
Upon arrival at Guwahati Airport, drive to Nameri National Park (6 hours) for an overnight halt, one of the most scenic national parks of India with a view of the Himalayan peaks; a haven for rare and exotic birds. The evening will be at leisure. You can request a bonfire.Your stay will be at Potasali Eco camp with standard amenities.

Day 2 | Nameri NP - Dirang
During the winter season, go for an early morning guided jungle walk for bird watching and if lucky some larger species such as deer, elephants, and bison can also be spotted. After breakfast, leave for Dirang (7-8 hours), a tiny village in the Kameng Valley. Your journey will thus enter the lush and pristine Himalayas of the east. En-route visit Tipi Orchid Center which has an amazing diversity of orchid species. Evening at leisure.Your stay will be in Gonpalok Homestay with clean simple rooms.

Day 3 | Dirang
Spend the day in and around the scenic village of Dirang and go for an excursion to the scenic Sangti Valley where you can learn about the local life and visit Kiwi Farms. Also, visit the ancient fort of Dirang Dzong and the local ancient monastery. Evening at leisure.

Day 4 | Dirang - Tawang
After breakfast, drive to Tawang (7-9 hours), a sacred and hidden Buddhist highland where the essence of ancient Buddhist preaching and spirituality has flourished for ages. In testimony to this stands the beautiful Tawang Monastery, a center for Buddhist learning. Drive through the scenic Himalayan landscape, halt on the way at the high altitude Sela pass (4000m), Jung waterfalls, and Jaswant Garh War Memorial. Enjoy hot tea and snacks served at the army camps. The evening will be at leisure.Your stay will be at Tawang Homestay with comfortable rooms.

Day 5 | Tawang
Spend the day visiting the significant monasteries and nunneries located in and around the town, with further visits to markets and craft centers that will help you understand the lifestyle and skills of the town's people. Evenings at leisure where you may taste some steamy hot Tibetan food in the busy market area.

Day 6 | Tawang
Indian nationals will spend the day on an extremely scenic excursion to the picturesque Sangetsar Lake. The region is filled with high-altitude wetlands and pristine nature. You will be going as far as the untouched borderlands with Tibet with a visit to the Bumla Pass army base right at the Line Of Control. Return to Tawang for an evening at leisure. You can request your hosts for some local cuisine for dinner.

Alternatively, for foreign nationals, the day will be spent on an extremely scenic outing. You will drive to Zemithang, an interesting village of the Monpa tribe, located near the tri-border between India, Tibet, and Bhutan. Located right at the secluded frontiers of the Himalayas, the village is an example of traditional Monpa living where nature provides for the community. You will also visit Jhamtse Gatsal en route, a local sustainable community or rather a school of life, which is doing commendable and heartwarming work for local children and allows for interaction with travelers. Return to Tawang for an evening at leisure.

Day 7 | Tawang - Bomdila
After breakfast, drive to Bomdila (7-8 hours), a mountaintop town that offers breathtaking views of the surrounding snow-clad mountains on a clear day. The evening will be at leisure or you can explore the upbeat market area of the town.Your stay will be at Dhe Dhen Gatsil Homestay with clean simple rooms.

Day 8 | Bomdila - Guwahati
You can visit the monastery early in the morning and perhaps walk around the town a bit. Later after a leisurely breakfast, drive to Guwahati (7-8) for an overnight stay.

Day 9 | Guwahati
If time permits, you can spend the morning sightseeing with visits to temples and emporiums. Later, drive to Guwahati Airport for your scheduled departure flight. Tour ends.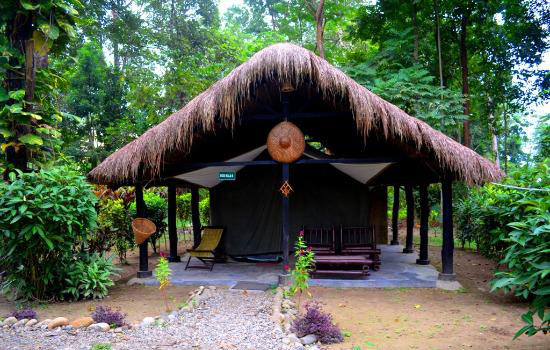 Run by a local NGO involved in conserving two endangered species, Nameri Eco Camp is located near the Bhoroli River midst quiet and quaint surroundings. The property offers deluxe styled cottages and camps with colorful fabrics, private bathrooms, sturdy beds and thatched-roof shelters that make the experience relatively luxurious. An atmospheric open restaurant is where a lot of conversations happen.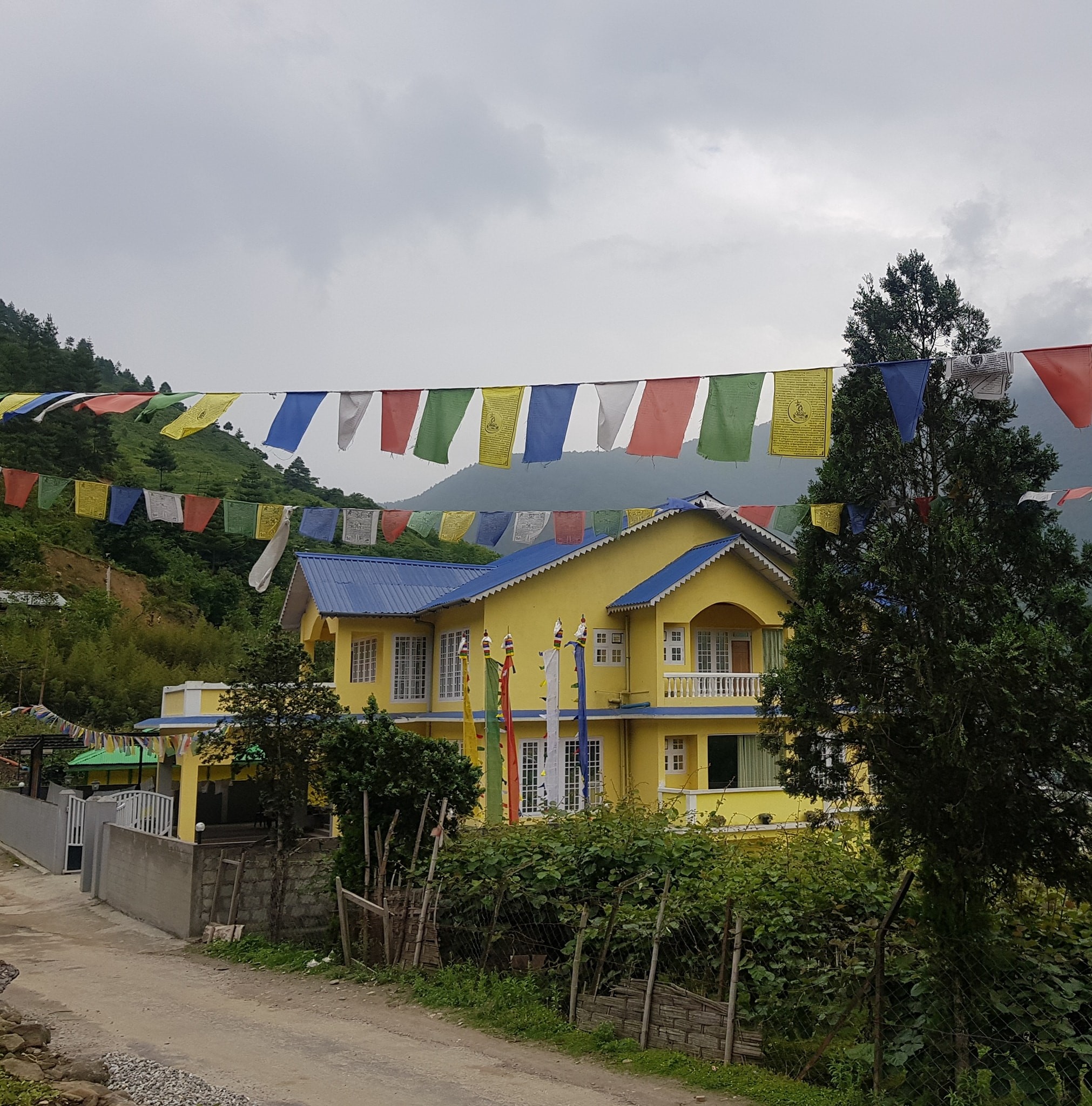 Homestays are important in promoting sustainable tourism. Your stay in Dirang will be at Gonpalok Homestay which is a highly reviewed property run by a warm and courteous family that has hosted travelers from all over the world. Rooms are pretty modern and standard, providing comfort to visitors who come to this remote region of the Himalayas.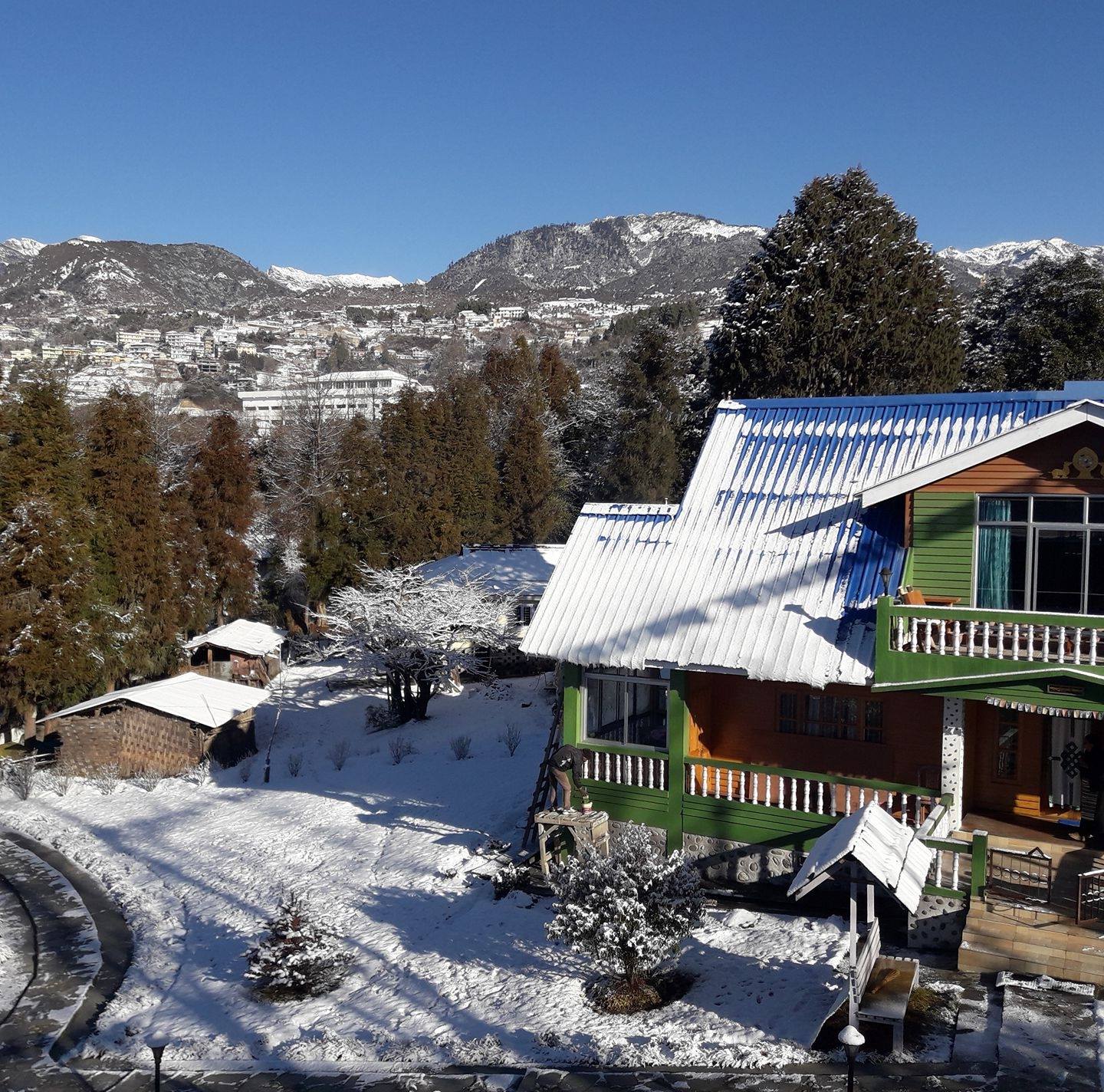 This secretive homestay is the prefect cozy place to stay while in the snowy town of Tawang. Run by a friendly local family, it provides warm woody rooms with standard amenities, a very expansive compound with a garden and fireplaces to keep you rightly warm.
Dhe Dhen Gakhyil in the mountaintop town of Bomdila is an excellent homestay managed by an educated lady and her daughters bearing high aesthetic sense and hospitality. Rooms and bathroom are very clean and well decorated. Homemade food is served and the atmospehere is truly that of a home away from home.
Why travel with us?
curated experiences
Our itineraries are one of a kind, curated from our own personal travel experiences, from choosing the best logistically correct routes to the most interesting stay options.
native guides
Our tour guides are native to the region, and bring you an insider view into the life and culture of Northeast India, sharing with you authentic local experiences and fostering friendships.
experts in tours
When travelling with Greener Pastures, you can be assured that you are in the hands of experts who are knowledgeable and passionate about the region. Expect hassle-free, easy-going, and insightful travel.
By choosing us, we share together a pledge towards responsible tourism, and share a belief that travel has the power to positively transform local livelihoods, cultures and environment.
The tours listed in this website are our own well-researched itineraries that come with a great degree of flexibility and customization. Each tour is therefore individually priced around your requirements and budget. This provides you with a sense of choice and reliability, and also helps us meet customer expectations much more closely, making your travel experience all the more memorable.

Please fill out the form below to tell us more about the tour you are interested in and a response with costs and information will be sent to you as soon as possible.
Booking Procedure
Our tours can be confirmed with an advance deposit of 30% which can be transferred to our bank account.

Please go through the Terms and Services listed in our website.

Cancellation Policy
Greener Pastures must receive notification of cancellation in writing, email or phone call. At the time we receive the request, refund will be based as follows:

1. Cancellation more than 15 days prior to departure = 75% refund of deposited advance amount.

2. Cancellation less than 15 days prior to departure = 25% refund of deposited advance amount.