River Cruise on the Brahmaputra
Kaziranga NP - Majuli - Sivasagar - Dibrugarh
8D/7N
One of the most compelling description of the Brahmaputra River can be found in a literary piece by writer Dianne Sharma Winter. She writes,

"There is a saying that goes 'If you cross the Brahmaputra one time you are destined to return'. There are a lot of legends and prophesies floating with the current of the mighty Brahmaputra River as it tracks it's course from Tibet onto Bangladesh, roaring down through narrow chasms and gobbling up land in its hunger to reach the sea. A river as wide as an ocean, blood red with stories of sacrifice and patricide, unusually for a river it is male in its aspect and unusually for India, it is not a holy river but often referred to as the Old Man River.

Apart from one day a year when the qualities of the water become divine enough to wash away the sins of a devotee, Brahmaputra spends his life washing away the efforts of man whether sinful or not. There still remains a divine union between the Brahmaputra and Mother Nature, the fruits of their union visible in the verdant jungles and fields so green that they could only have been painted by the co-ordinate efforts of man in harmony with nature. Brahmaputra is not a river that will be easily tamed; it is a river that demands respect and submission.

Rare it is to find a reference to this river without the word "mighty' attached to it. A river of sorrow and munificence, the river is the blending and balance of our human lives measured against the flow of time. Every year hundreds of people are taken by the swift flow of flood as the river swells with monsoon rain and thousands more are nourished by the rich silt deposits left in its wake. If a river is the highway of life, cultures and commerce – then the Brahmaputra is beyond par in this respect."

This 7 nights cruise over the mighty upper reaches of the Brahmaputra River will make time stop and immerse you in the magical landscapes that surround the river in its silent course through the vast and verdant plains of Assam. Covering both secrets and highlights the river traverses, the cruise will start with a visit to the world famous Kaziranga National Park, a UNESCO natural heritage site where a century of conservation initiatives has led to an excellent habitat of thriving subtropical biodiversity. Jeep and elephant safaris here will bring you upfront to some of the wildlife, such as herd of elephants and deer, crash of rhinos, playful romp of otters, or perhaps even a majestic tiger making its presence certainly felt. Continuing upstream, the cruise will reach the large island of Majuli at the middle of the mighty river where Hindu-Assamese monastic culture is deeply rooted and thriving since medieval times. Here in the beautiful island, you will come across some heartwarming village folk and monks alike, and get to learn more about the unique preachings, arts, dance, drama, and music being practiced in the monasteries. The cruise further has some historical visits to temples, ruins and monuments all of which are excellent display of the rich heritage and past of the people of Assam. Lastly, this cruise also covers a visit to the greenery of a tea plantation where guests will learn about the various stages from growth to production that goes into bringing us our daily cup of refreshing tea.




Day 1
Arrive at Jorhat airport and drive to the port at Steemer Ghat (2-3 hours), a beach that boundaries verdant forested hills and is located close to Kaziranga National Park. Alternatively you can arrive at Guwahati Airport (4-5 hours). Rest of the day at leisure to settle-down onboard the ship and be introduced to both staff and fellow travelers.

Day 2
Upon disembarking pre-dawn, drive to Kaziranga National Park's central range for an early morning elephant ride that bring you thrillingly close to the rhinos and other animals. Return to ship for breakfast onboard and continue cruising upstream with the national park on the right bank. Around midday we reach Vishnath, a medieval Hindu temple build during the time of the Ahom kings and is dedicated to Lord Shiva. There are other later temples too that can be visited as we walk through the town before boarding the ship and setting off with Kaziranga still on the far bank. Wild elephant may sometimes be spotted or perhaps even a tiger who has the power to make time stop. Evening at leisure.

Day 3
The day will be well spent on the river cruising upstream with immersive views of the Himalayas on the north and Naga Hills on the south. The mighty river's effect on the landscape is well observable with hundreds of deserted islands along its course and massive erosion in the tall river cliffs. There's also chances of spotting river dolphins, as well as creating a sensation as riverside villagers gather to see the crafty ship sail pass. We should arrive in the evening at the lonely Dhansiri Mukh.

Day 4
Disembarking early morning, we will visit Kaziranga's non touristy eastern range. The habitat is good for bird watching, or be confronted by a giant tusked elephant chasing away intruders or maybe even a tiger dominating his territorial exapanse. Returning to the ship, the cruise will continue upstream. Rest of the day at leisure.

Day 5
Another day will be spent cruising upstream. There will be friendly visits to riverside villages where you will get a chance to interact with the locals, learn about their sustainable river-dependent ways of living and get an overview of the simplicity of life in the Indian countryside.

Day 6
Around breakfast time, we should reach Majuli, the world's largest inhabited river island that is a cultural center for the Assamese people and possesses unique Hindu monasteries famed for their preachings, arts, dances and drama. The whole island is now shortlisted to be considered for an UNESCO World Heritage status. You ill be visiting a monastery to get better understanding of the culture and get to interact with monks. Later, there will be a visit to an eclectic museum and a rich dance performance at Kamalbari monastery depicting Hindu mythology. The day will end by cruising across to Neamati Ghat on the opposite bank.

Day 7
This morning, we will visit the green expanse of Horu Charai Tea Estate and see the various processes of tea production (factory inoperative between December and mid-March). Later, drive for about an hour to reach the historical town of Sivasagar, the one-time capital of the Ahom kings. Shan by origin (Assam and Siam share the same derivation), the Ahoms willingfully converted to Hinduism during their rule over the plains of Assam that lasted some 700 long years until the 1820s. Their culture and architecture is a strange and delightful amalgam of Indian and Southeast Asian. We shall see temples with stupa-like profiles and palaces of distinctive form such as the crocodiles and rather sexy caryatids that adorn the roof of the Rang Mahal the grand viewing gallery of he kings. The temple tank here is believed to be the world's largest hand-excavated reservoir. We return to the ship by afternoon to spend our last night on board the ship.

Day 8
Drive to Dibrugarh Airport (2 hours) for your departure flight, passing through the typical colonial tea town that was once a major base for American flights over "The Hump" to China during WWII. Alternatively you may transfer to Jorhat Airport (2-3 hours).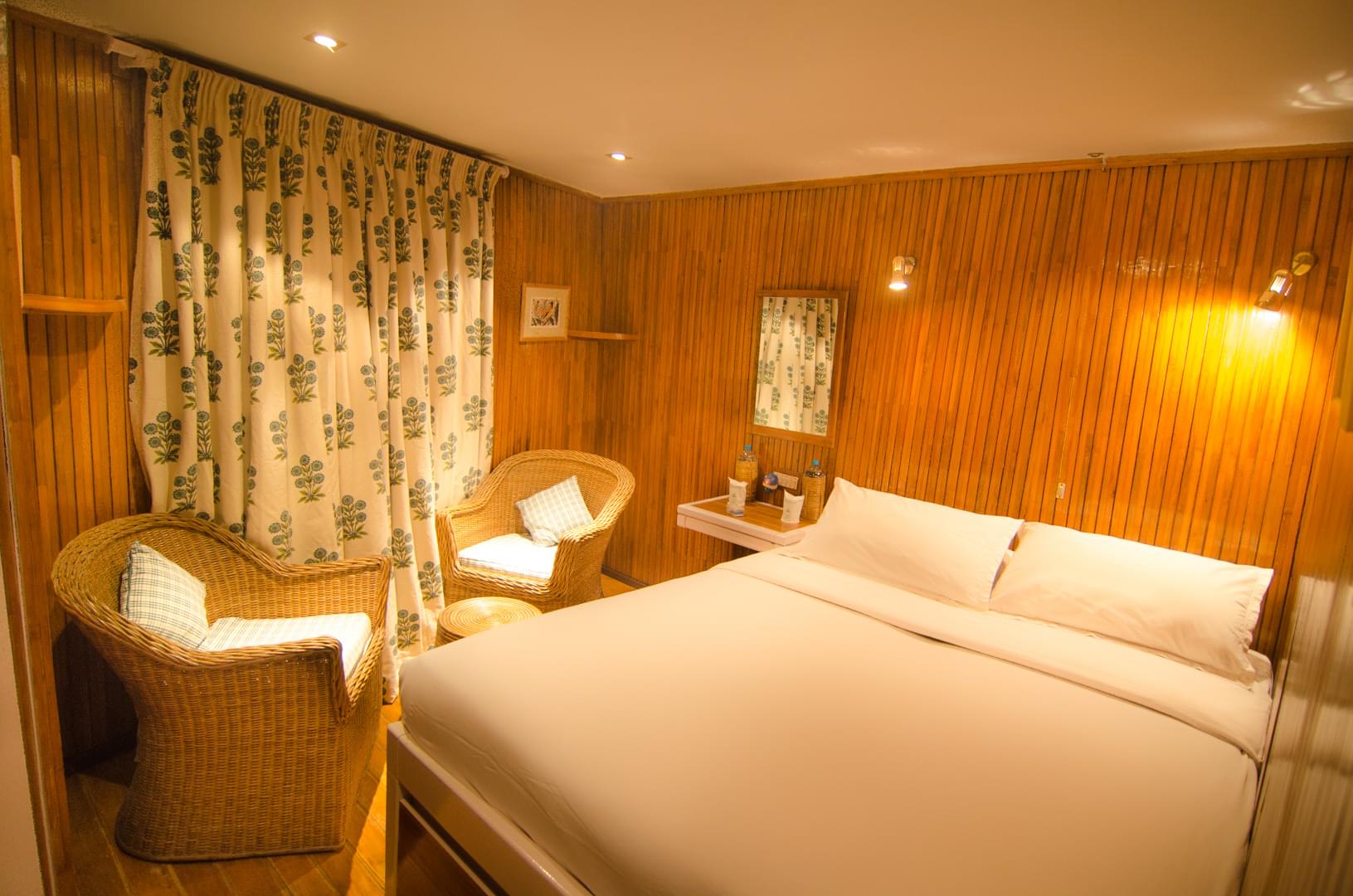 The wooden cabins of the river cruise have a boutique feeling and provide modern amenities while remaining spacious and ambient lit. With large windows that provide panoramic views, you can spend as much time as you want in taking in the river journey.
Why travel with us?
curated experiences
Our itineraries are one of a kind, carefully deatiled from our own personal travel expereinces, such as choosing the best logistically correct routes to the most interesting stay options.
native guides
With our charming tour guide native to the region, you will get an insider view of life and culture of Arunachal Pradesh, thus bringing forth authentic local expereinces and friendships.
experts in tours
Traveling with Greener Pastures, be assured you are in the best hands of experts who know and are passionate about the region. Expect a hassle-free, easy going and insightful travel.
By choosing us, we share together a pledge towards responsible tourism, and share a belief that travel has the power to positively transform local livelihoods, cultures and environment.
The tours listed in this website are our own well-researched itineraries that come with a great degree of flexibility and customization. Each tour is therefore individually costed around your requirements and budget. This provides you with a sense of choice and reliability, and also helps us meet customer expectations much more closely, making your travel experience all the more memorable.

Please fill out the form below to tell us more about the tour you are interested in and a response with costs and information will be sent to you as soon as possible.
Booking Procedure
Our tours can be confirmed with an advance deposit of 30% which can be transferred to our bank account.

Please go through the Terms and Services listed in our website.

Cancellation Policy
Greener Pastures must receive notification of cancellation in writing, email or phone call. At the time we receive the request, refund will be based as follows:

1. Cancellation more than 15 days prior to departure = 75% refund of deposited advance amount.

2. Cancellation less than 15 days prior to departure = 25% refund of deposited advance amount.