The Monpa High Mountains
West Kameng & Tawang, Arunachal Pradesh
11D/10N
In the magnificent highlands of the eastern Himalayas, Tibetan Buddhism has for ages survived and progressed true to its essence. Once contingent to that glorious free Tibet and ruled from Lhasa, the region today forms the western part of the forested state of Arunachal Pradesh. This land is proverbially beautiful; where the forests are massive, where plentiful fruits and flowers, high mountains, large rivers and humble cultures come alive in their awe and simplicity.

In this journey starting at the plains of Assam, you will begin at Nameri National Park for a brief introduction to the biodiversity of the region. You will drive as far as the holy lands of Tawang and even beyond to paradisiacal landscapes of the mysterious high eastern Himalayas. In the verdant village of Thembang, you will come across and participate in the village life of the Monpa people and be introduced to their Bon-Buddhist culture. A responsible tourism project in the village ensures visitors get to stay in homestays and benefits remain at a grassroots level. In medieval era the village was a headquarter of a large territory ruled by the powerful Thembang Bapu, a direct descendant of the king of Tibet, and remains of fortification of this kingdom is still found in the village.Around Thembang, you will spend a few days in utmost serenity in moderate hikes to lonely remote mountain ranges, where the highlights will be the pristine nature, the flowers and fauna, along with a chance to interact in remote Monpa villages.

In Bomdila, a thriving multi-cultural Himalayan town, you will be staying in the beautiful monastery's guesthouse making it possible to observe early morning activities of the monks. Lastly, as you travel near the borderlands, the geography opens up into spectacular high-altitude peaks, pastures and wetlands, like nature's eye-candy. While Indian travelers can go on a day trip towards Bum La pass to enjoy the scenic beauty of breathtaking lakes, foreign nationals get to spend a day traveling towards Bhutan to visit Zemithang village to see the traditional lifestyle of people living in the secluded frontiers and visit the large Gorsam Stupa which is a sacred pilgrimage site resembling the colossal Boudhanath Stupa of Nepal.

There will also be a visit to two community projects which are engaging in social work. The Manjushree Vidyapeeth is an orphanage run by the Buddhist monks and is on the way to Lhou. It is open for visitors and many even offer help for the welfare of this institution. Jhamtse Gatsal is another project – a community, home and school for about 90 children who come from nearby villages. Coming from various problems, the school's goal is to provide the children with a better future and enable them in reaching their fullest potential. The community focuses on the wholesome development of a child by activities such as education, cultural preservation, family bonds, community outreach, food & gardening, healthcare and sustainable living. Volunteering here is highly recommended and the school assists interested individuals find a temporary vocation which will benefit the children.

A revealing journey through one of the planet's last thriving natural paradise, this trek and tour provides a simple insight into distant lifestyles and cultures, all the while hiking and driving though a diversity of pretty landscapes. A quote by the great anthropologist Dr.Verrier Elwin aptly describes "Gentle, friendly, courteous, industrious, good to animals, good to children, you see in the Monpas the influence of the compassionate Lord Buddha on the ordinary man."

Day 1 | Guwahati - Nameri NP
After arrival at Guwahati Airport, drive to Nameri National Park (6-7 hours) which is one of the most scenic national parks of India with its view of the Himalayan peaks and is a haven for rare and exotic birds. The jungle lodge is run by a local NGO involved in ecotourism and conservation of the Pigmy Hog and Golden Mahseer, both critically endangered species. Evening at leisure with campfire. Your stay will be at Eco Camp tents or Jia Bhoroli cottage with basic amenities.

Day 2 | Nameri NP - Thembang
Go for an early morning thrilling guided jungle walk for bird watching. One may also come across larger species such as deer, elephants and gaur. Return for breakfast, then leave for Thembang (7 hours) in Arunachal Pradesh. Thembang is a historic village of the Monpa Tribe where a community run tourism project maintains and preserves the local environment and culture. Your journey will thus enter the lush and pristine Himalayas of the east. En-route also visit Tipi Orchid Center that has an amazing diversity of orchid species., providing you a glimpse into the distant lifestyles of the Monpa people. Evening at leisure. Your stay will be in a clean homestay with basic amenities.

Day 3, 4, 5 | Trekking around Thembang
Spend the next three days trekking in the mountains around Thembang. The trek will cover altitude between 2000 to 3000 m, crossing remote villages and forested areas. Highlights of the trek can include birds such as pheasants, dense temperate and conifer forests, rhododendrons, red pandas, bears, view of snow covered Gorichen peak, winter and summer grazing ground and village life. Overnight will be in tents or a local's simple home.

Day 6 | Dirang - Tawang
After breakfast, drive from Thembang to Tawang (7-9 hours), a sacred and hidden Buddhist highland where the essence of ancient Buddhist preaching and spirituality have flourished since ages. The testimony to this stands the beautiful Tawang Monastery, a center for deep Tibetan learning. En route to Tawang, you will have to cross the snowy Sela Pass at an height of 14,000ft and the Jung Waterfall can also be visited. Evening at leisure. Your stay will be in Hotel Mon Paradise with fairly standard amenities.

Day 7 | Tawang
The day will be well spent visiting the significant monasteries and nunneries located in and around the town, with further visits to markets and craft centers that will help understand the lifestyle and skills of the town's people. Evenings at leisure where you may taste some steamy hot Tibetan food in the busy market area.

Day 8 | Tawang
The day will be spent in an extremely scenic outing. Indian citizens will visit till the picturesque Sangetsar Lake along with some other equally mesmerizing high-altitude wetlands, going as far as the untouched borderlands with Tibet with a visit to the Bumla Pass army base right at the Line Of Control. Alternatively, foreign nationals will drive till Zemithang, an interesting and scenic village of the Monpa tribe, located near to the tri-border with Tibet and Bhutan. Located right at the secluded frontiers of the Himalayas, the village is an example of traditional Monpa living where nature provides for the community. You will also visit Jhamtse Gatsal en route, a local sustainable community or rather a school of life, which is doing commendable and heartwarming work for local children and allows for interaction with travelers. Return to Tawang by evening at leisure.

Day 9 | Tawang - Bomdila
Drive from Tawang to Bomdila (7-8 hours), a scenic mountaintop town which offers breathtaking views of the surrounding snow-clad mountains on a clear day. Evening will be at leisure to explore the upbeat market area of the town. Your stay will be in the cozy monastery guesthouse with standard amenities.

Day 10 | Bomdila - Tezpur
Visit the monastery to observe early morning activities of the monks. Later after breakfast, drive to the small town of Tezpur (8-9 hours), thus returning back to the Assam plains. Evening at leisure. Your stay will be in a comfortable standard hotel.

Day 11 | Tezpur - Guwahati
Early morning can be spent visiting some historic temples of the town. Later after breakfast, leave for Guwahati Airport (5-6 hours) for a departure flight preferably in the afternoon. Tour ends.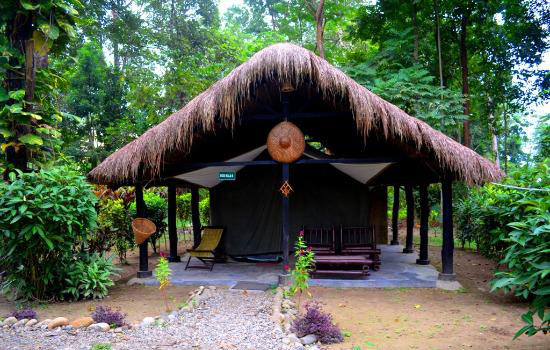 Run by a local NGO involved in conserving two endangered species, Nameri Eco Camp is located near the Bhoroli River midst quiet and quaint surroundings. The property offers deluxe styled cottages and camps with colorful fabrics, private bathrooms, sturdy beds and thatched-roof shelters that make the experience relatively luxurious. An atmospheric open-sided restaurant is where a lot of conversations happen.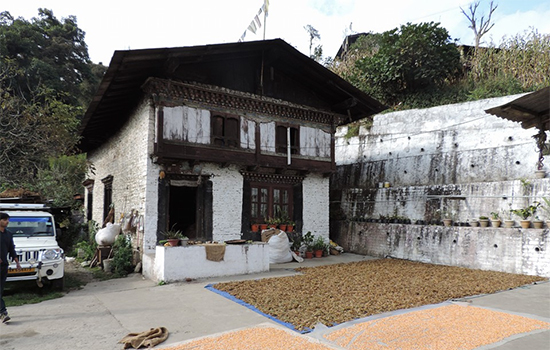 The village of Thembang sits verdantly somewhere in the subtropical Himalayas. The inhabiting Monpa community's responsible tourism initiative in the village ensures visitors get to stay in homestays thus providing them an opportunity to interact closely with the local culture and that benefits reach directly at local hands and spread to improve village life. Rooms here are simple and clean as per the local way of living.
Mon Paradise is a standard hotel which strives to provide modern facilities in the remoteness of the Tawang region. Rooms are clean and cozy with majestic views of the mountains. Staff are helpful and courteous.
The guesthouse at the monastery in Bomdila is perhaps the best place to stay in the frontier mountain town. Styled with a Buddhist influence, the property is located in the compounds of the colorful monastery and views of surrounding mountains are plenty. Rooms are simple, carry wooded flooring and clean.
The Heritage is a business class hotel set in the cultural town of Tezpur in middle Assam. Rooms are fairly luxurious and modern, the property has a homely ambiance and service is dedicated.
Why travel with us?
curated experiences
Our itineraries are one of a kind, carefully deatiled from our own personal travel expereinces, such as choosing the best logistically correct routes to the most interesting stay options.
native guides
With our charming tour guide native to the region, you will get an insider view of life and culture of Arunachal Pradesh, thus bringing forth authentic local expereinces and friendships.
experts in tours
Traveling with Greener Pastures, be assured you are in the best hands of experts who know and are passionate about the region. Expect a hassle-free, easy going and insightful travel.
By choosing us, we share together a pledge towards responsible tourism, and share a belief that travel has the power to positively transform local livelihoods, cultures and environment.
The tours listed in this website are our own well-researched itineraries that come with a great degree of flexibility and customization. Each tour is therefore individually costed around your requirements and budget. This provides you with a sense of choice and reliability, and also helps us meet customer expectations much more closely, making your travel experience all the more memorable.

Please fill out the form below to tell us more about the tour you are interested in and a response with costs and information will be sent to you as soon as possible.
Booking Procedure
Our tours can be confirmed with an advance deposit of 30% which can be transferred to our bank account.

Please go through the Terms and Services listed in our website.

Cancellation Policy
Greener Pastures must receive notification of cancellation in writing, email or phone call. At the time we receive the request, refund will be based as follows:

1. Cancellation more than 15 days prior to departure = 75% refund of deposited advance amount.

2. Cancellation less than 15 days prior to departure = 25% refund of deposited advance amount.